Fijian Barefoot Massage
January 6

-

January 7

$500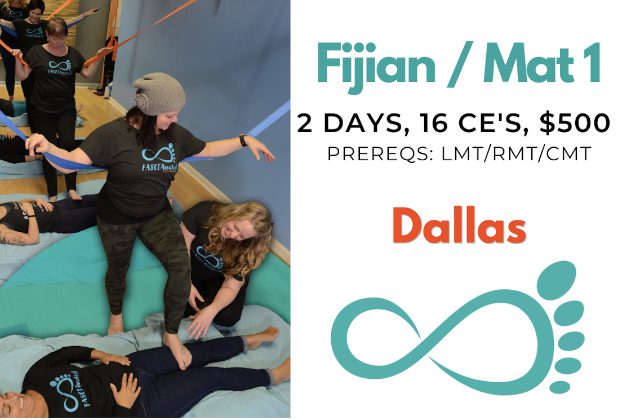 A versatile and very portable barefoot technique that can be used as-is, adapted to table work, assimilated into existing matwork sessions, and taken outdoors to events easily.
This Fijian Barefoot Massage/Matwork 1 class can be a starting point as your 1st barefoot massage class, as a supplement to any existing matwork you already provide, or it can be used to grow your existing barefoot vocabulary and master more skills applied by your feet.  Originally taught within the massage industry starting in the 1990's, adapted and brought to the United States from the Fijian Islands by Lolita Knight, this lineage of matwork based barefoot massage is traditionally performed on a floor mat using body cushions, with the client clothed – but can easily be done directly on the clients skin with zero to minimal lubrication.
Great as a stand-alone service, works wonderfully within any Thai, Shiatsu, Breema or Matwork session, and can even be implemented within a table-top barefoot massage like the Myofascial Ashiatsu Barefoot Massage techniques we teach in our FasciAshi classes.
This massage is super portable, as it is easy to use at events, house-calls, impromptu at family gatherings, or even out in nature with minimal equipment. Often times the therapist will find themselves seated in a chair or the floor while providing strokes. For standing strokes, the use of overhead bars is not required – although the FasciAshi Strap really helps! We may stabilize our balance with the FasciAshi-Strap, a chair, or any other balancing tools such as a bamboo staff, rather than overhead bars.
The work incorporates specific, deep pressure followed by a vigorous jostle movement to the larger muscle groups. Fijian Massage works with intensity by using our strong toes and bony aspects of our feet to create simple, rhythmic stroke repetitions. The versatility of the 8 moves that make up this technique allows for a wide range of possible ways to use it in your practice however "kneaded"!
No prerequisite needed – other than you MUST be a licensed massage therapist.