Parasympathetic Reset – Sleep Therapy 12 CE
October 23 @ 10:00 am

-

October 24 @ 5:00 pm

UTC+0

$400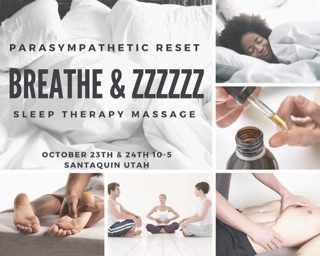 This evolutionary therapy delves into a common condition that plagues many: insomnia and stress-induced restlessness. 
Causes vary from general everyday stresses to excessive blue light exposure to trauma. This therapy encourages deep relaxation, bringing the client into a genuinely restful state minimizing stress of the mind and body to allow for trauma release and restful sleep.   
This course enables the aspiring therapist to guide a client from the acute stress response (fight or flight) into rest and digestion.  Here, therapists will learn the 4-7-8 (Relaxing Breath) technique and how to coach a client through this breathing exercise while discovering where to find and trigger specific acupressure points to induce restful calm. 
Therapists will learn how exclusive essential oil blends can help to promote sleep and how to use them in treatment, along with rhythmic, myofascial strokes to connect the body.  This therapy also employs heat, a weighted element, very low lighting, and customized delta binaural sound selections for relaxation and sleep. 
We will cover the art of efficient arrangement of a massage space and proper dressing of the massage table for maximum effect and success of this specialized treatment. 
This therapy and course begins to unlock the mystery of trauma response, trauma retention in muscle tissue and trauma release.  Therapists will learn strategies to facilitate trauma release and to contend with emotional release in the treatment space. 
At completion, therapists will understand and have the ability to perform this unique sleep therapy protocol, incorporating all aforementioned elements into a solid therapy flow to successfully RESET the parasympathetic system!