"Sometimes you have to drag the mind into the heart."
The spaces we inhabit are all infused with energy. Some spaces can feel light and uplifting; while others can make us feel drained and even a bit down.
I'm sure we have all experienced this in some way. Creating an altar, or a sacred space, in your home can give you a way to pour your energy into a place you can go to feel safe, supported, and uplifted.
An altar is a way of honoring yourself, your intentions, and connecting to something bigger than you. It can be as big or small as you want, it's all about carving out space for the sacred in your life.
A little history….
Altars have been used for thousands of years in many different cultures across the globe. Traditionally, they have been used for rituals or as a place to make offerings to deities, a way to honor the Gods through spiritual practice.
Now, many people across the world are creating sacred spaces to simply connect to themselves, and bring intention into their lives. Your spiritual life deserves lots of love and care, and I believe you'll find when you come to this space you have created- you will feel at peace, and be reminded of your ideals, and what means the most to you.
It's a beautiful process of remembering, and remembering again, that life is sacred and precious.
Where and what do I put on my altar?
Your altar is a representation of your inner world. What inspires you? What objects, herbs, scents, or symbols do you connect with? These are good questions to ask yourself as you begin to create your sacred space. Corner tables, end tables, a mantle, or a chest are all great places for you to set up, but you can choose any space you wish. Once you find the perfect space, I recommend doing a short meditation to tap into some things you might like to include on your altar.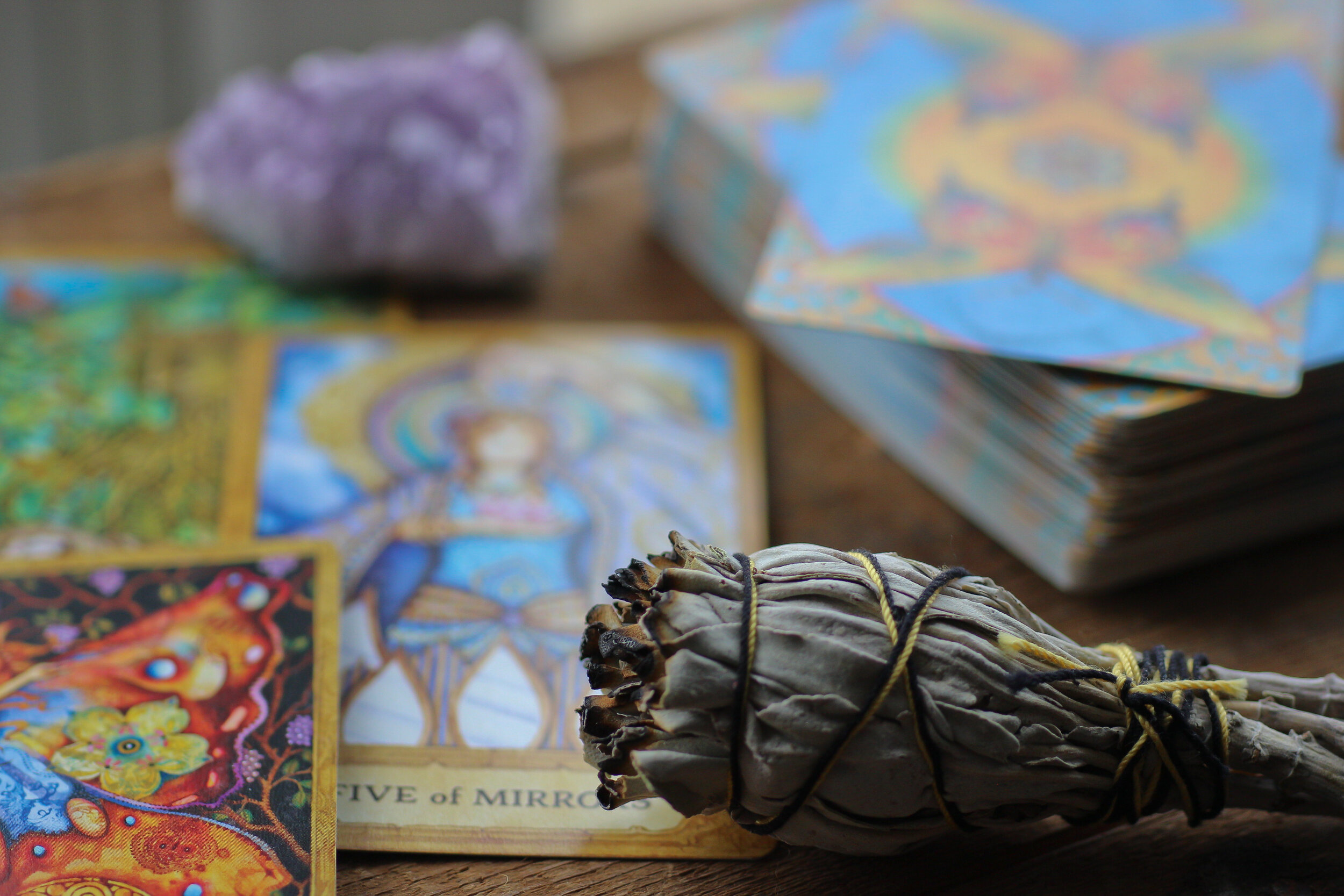 Some ideas for things to add to your space:
Sentimental objects

This can be anything that is special to you. Whether it's a ring your grandmother passed down, a note from a friend, or a totem from your childhood; a scarf or cloth, anything that has emotional attachment and brings you peace can be a lovely contribution to your space.
I often make intention bottles filled with herbs, gemstones, glitter, beads, a sigil, feather, etc. to help bring forth intention into reality.


Herbs and Smudging Tools

A bowl of lavender, a rosemary sprig, a bundle of sage, or a piece of palo santo to clear the space, can bring a bit of life to your altar and clear out negative energies.


Artwork/Pictures

A drawing, a painting, doodle, handmade sticker, or pictures of loved ones can help bring in a personal and artistic feel.


Representation of the 4 elements and directions

I like to use a feather, a bowl of water, a candle, oil, and a little bit of soil or a plant for grounding and connection to Mother Nature.


Tarot Cards

If you are into tarot, your altar is a brilliant place to keep your deck/decks. They will absorb your personal energy and allow your readings to flow more intuitively.


Incense

Any incense is amazing for making your altar smell delightful and awaken your senses. Nag Champa and Frankincense are my faves! Incense comes in sticks, cones, and resin crystals.


Crystals & Gemstones

Crystals aren't only beautiful, but they can give your altar a beautiful energy; you can use them to create a grid or just to liven up the space. Gemstones have specific meanings (abundance, love, friendships, career, etc.)
Crystal wands are a gorgeous way to display your intentions!

Candles
Remember, this is a space for you, and you alone; infuse your personality into it, and most importantly~ enjoy the process! I hope your altar brings you peace, joy, and inspiration; and that you can go here to have an experience of how truly beautiful you are. Namaste.

~Lauryn, Badass Bodyworkers Social Media & Marketing Manager